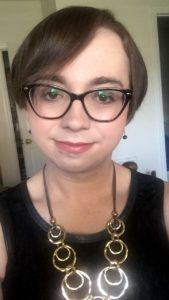 Erica Grace Saunders brought our "Voices of Today" testimony this past Sunday. Erica is a Wake Forest School of Divinity student, and will soon be an intern at Wake Forest Baptist Church. 
Good morning, everyone. It's wonderful to see your smiling faces staring back at me.
As a trans woman early in transition, I'm used to stares, whether it's passersby giving me strange looks on first inspection or a cashier looking confused after hearing my voice. I'm so used to it by now I rarely notice, but for a while I spent a lot of time thinking about this. I came to the conclusion that the stares come from their discomfort at someone else defying their expectations.
Most of us go through life with a dualistic framework of easy categories. Things are black or white, either or, this or that. When these categories are disrupted, it's uncomfortable. Psychologists have a word for this: "cognitive dissonance."
Gender is one of those categories. According to the traditional binary, one is expected to be either masculine or feminine. Mixing of gender roles is not encouraged. Since I don't "pass" as a cisgender woman, I inhabit a liminal space between the two ends of that spectrum, being perceived as less than masculine but not quite feminine. This gray area makes a lot of people uncomfortable, and it often makes me feel like I don't belong anywhere, too feminine for masculine spaces and too masculine for feminine spaces.
Current rhetoric surrounding trans issues reifies the gender binary, stokes the cognitive dissonance, and alienates trans people like me. HB2 is one example of this. When I enter the ladies' room, I'm on high alert. I lose my trust in the goodness of people. Will another woman look at me with disgust, feel uncomfortable, and leave? Did someone's father or partner see me, someone they consider a man in a dress out to prey on women, walk in? Violence against trans woman, especially trans women of color, is all too common. Rather than deal with this fear and anxiety, I usually avoid public restrooms. Laverne Cox, a transgender actress and activist, among others, has said that  "bathroom bills" like HB2 aren't really about bathrooms, but about excluding trans people from all public spaces. If trans people can't belong in a bathroom, they can't belong anywhere. If that is their goal, they've succeeded in making me feel unwelcome in most places.
I am encouraged by the visibility that trans people have achieved. To preserve my sanity, I have to believe that people who support HB2 don't intentionally want to hurt trans people, but seek only to alleviate their own discomfort brought about by their own misunderstanding. As trans people get more attention and continue to share their stories, I trust that our brothers and sisters will come to appreciate the image of God in all people, including my trans siblings. I find my hope in the people who love me for the woman I am and the communities to which I belong; I see in their acceptance the dawn of the Kingdom of God. Thank you, church family, for being God's people in this regard.
May we all complicate our narratives and embrace the gray areas of life. Amen.