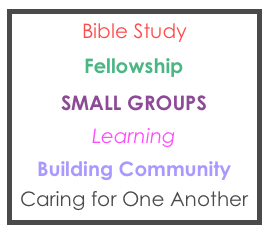 What's your favorite part of being a church member? Maybe it's small groups! Studies show that in small groups we develope a sense of belonging, make new friends, and receive support from others. And in small groups, we learn different perspectives on faith and God.
This Spring semester, we have some new small group offerings that you may consider joining, so that you might make some new friends, develop your own sense of belonging (or help someone else feel like they belong), and maybe even grow in your relationship with Jesus and others.
Beginning Sunday, January 27, we're pleased to offer two new Sunday school classes, which will last until March 3:
Reading the Bible through Other Eyes, led by David Hirano, Room 206
David will lead the group in reading the Gospel texts for Epiphany through the lens of other cultures.  This will be a discussion class.

Introduction to Buddhism, led by John Kernodle, Room 202
John will provide an introduction to Buddhism, with a focus on Zen Buddhist Ethics and the role of karma. This is limited to 12 people.
Erica Saunders, Laura Wind, and Pastor Liawill gather a group for Skill-Building for the Apocalypse. In this discussion group, we'll consider Octavia Butler's Parable of the Sower, adrienne marie brown's Emergent Strategy, and supplemental podcasts and writings. Our first meeting will be Thursday, January 31 at 7:00 pm. Our location and regular meeting times will be negotiated within the group.
Did you love participating in Foyers? Or do you love the idea of gathering with a group of friends for dinner on a regular basis? This tradition is making a return! We'll convene one or two Supper Clubs, based on sign ups, and enjoy gathering together for fellowship!
And beginning in early February, we'll have a new Walking Group on Saturday mornings at 9:00. We'll meet at area walking trails and, well, walk. Who can beat that? Exercise and enjoyment! Dogs are welcome!
To sign up for any and all of these groups, email Pastor Lia OR fill out a sign up sheet on Sunday morning outside of the reception.