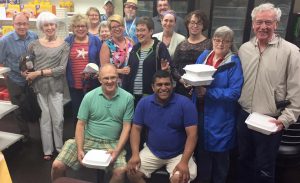 Here at Wake Forest Baptist Church, we've been working to turn our neighbors, especially our newest neighbors, refugees and immigrants, into friends. In this new anti-immigrant administration, it's important for us to reach out to our neighbors. Do you know that Latinx-owned businesses are struggling right now because of the fear many have about Immigration Control and Enforcement? And what better way to serve your neighbors then to frequent their businesses!
Our first initiative re-created our Wednesday night suppers. Instead of eating in our regular place (the Lower Auditorium of Wingate Hall on the beautiful WFU campus) we went to local Latinx owned restaurants for "comida tipica." Tacos, pupusas, and Italian (although the Italian restaurant was Muslim-owned). Along with getting to know neighborhoods and businesses that we weren't familiar with, we took Spanish lessons so that we could have the building blocks for relationships.
A few ministers have asked how to replicate our Wednesday night programs. So, first get some excellent interns who speak Spanish. They planned the Spanish lessons, which included translation of news articles for the advanced table and basic vocabulary for the beginners. Next, use this list as an example of how to do…
Checklist for Planning Field Trip
Choose a location based on goal of trip (e.g., immigrant-owned restaurant for neighbors-to-friend event). Estimate the expected size of your party.
About a week before the scheduled trip, visit the space to determine if it is appropriate. Will the atmosphere push people out of their comfort zone while not posing too much of a challenge? Is it large enough to accommodate your needs? Are there enough staff to assist a large party? How long does it take you to receive service/food? Plan how you will utilize the space. How do you want to arrange tables?
Ask to speak with an employee, preferably a manager. Introduce yourself as affiliated with Wake Forest Baptist Church. Explain your plans, asking if they would be interested. Ensure they know you will not evangelize. Consult with them regarding your ideas on how to use the space. Finalize the reservation.
Plan your time together. If you expect a large group, having appetizers waiting might be a good idea. Purchase and/or create necessary materials (for a Spanish lesson, e.g., blank index cards, pens and markers, pre-made flash cards, etc.).
Announce the event in the bulletin (announcement and calendar), on Sunday in worship (announcements), and in weekly email.
On the morning of the scheduled trip, call the location to confirm your reservations.
Arrive at the location with plenty of time to set up—between one and one-and-a-half hours before attendees. Consider eating before attendees arrive, especially if you plan on speaking a lot.
The day after the event, debrief. What went well? What could be improved next time? Check in with attendees in the days after. What was their overall impression of your time together? What did they like? What did they dislike?
After only a few weeks, one church member told the story of doing her Meals on Wheels route, with one Spanish speaking family. She was able to say to the woman, "Hello. It's nice to see you. My name is Judy." The Spanish-speaking woman invited Judy into her home, and even gave her a gift of dish towels. Judy turned a neighbor into a friend.
And this is just the beginning!