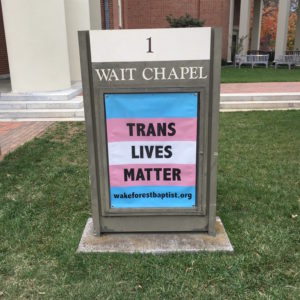 Last night, around 25 individuals met together in the Narthex for a time to celebrate trans lives. People told their stories, listened to one another, and cared for one another. We supported one another in the way that will become more and more important over the next few years.
We shared a Litany of Transition that spoke to me, and I wanted to share it.
Love calls us to transition—
to transition away from stories that have been written for us…
theologies that fail to value us fully…
systems that protect only a certain kind of person…
and into patterns of life rooted in justice,
protest, disobedience, compassion,
defiance, and radical self-love.

Love calls us to come out—
to come out of our closets of fear and self-doubt…
rhythms of being that blur our fullest selves..
structures that worship normativity…
and into models of living that reflect the
Divine image in us all and beckon us to return
to this identity with each new self-discovery.

Love calls us to step into the Light of our
full humanity, a warmth that glows with
the justice of our Creator and lights the
path toward our common home called Love.
This applies to us all. I'm glad we're moving together toward our common home called Love.
This Sunday morning, Eli Strong will join us for worship, sharing the stage in a dialogue sermon. Sunday is November 20, where we celebrate the Transgender Day of Remembrance. In addition, we'll give thanks for all God has done for us. I hope you'll join us.