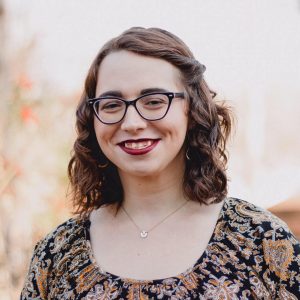 This Sunday, March 24, Erica Grace Saunders will be ordained by Wake Forest Baptist Church in Wait Chapel on the campus of Wake Forest University. The service will begin at 4:00 pm.

Erica, 24, is one of the first openly trans women seeking ordination in a Baptist congregation. She is a candidate for the Master of Divinity from Wake Forest University School of Divinity ('19). She began  her transition during her first year of seminary, and found a home at our church, where each Sunday everyone we say, "All are welcome. No exceptions." Affiliated with the Alliance of Baptists, our church has been committed to LGBTQ+ rights since it first performed a same-sex union in 2000.
In addition to serving a congregation as pastor, Erica hopes to advocate publicly for trans rights as part of her commitment to "religion in the public square."
She's a New Testament nerd, an incredible preacher, and loves bad puns.
For more information, please contact Lia Scholl, pastor of Wake Forest Baptist Church, at [email protected]. Information and resources concerning trans identities are available from the WFU LGBTQ Center.