written by Pastor Lia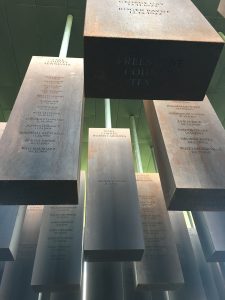 A major focus of the Poor People's Campaign is connecting the dots between poverty, militarism, racism, sexism, Islamophobia, homophobia, transphobia and all the other isms. They are all connected.
In the middle of the 6 week campaign I traveled to Alabama (my home state, by the way), a state so racist that the welcome center on I-85 greets visitors with a monument built in 1923 by a known white supremacist, Marie Bankhead Owen, with the state motto, "We Dare Defend Our Rights."
We were visiting Montgomery where there's signage, history markers, and directional signs for a confederate tour, but finding Dr. King's Dexter Avenue Baptist Church isn't easy at all.
We visited the new Legacy Museum and Memorial—the museum that traces the history of Black people in these United States from enslavement to mass incarceration, from lynching to police brutality against Black bodies.
We walked around and under the rusty brown coffin shaped hangings—with names etched in them,names of brown and black people killed, more than 4,000 of them, killed in acts of terror, racial brutality, killed because of the color of their skin.
What this trip solidified for me is the connection between the separation of children from their parents at our border to charging children as young as 7 as adults in our so-called justice system, and to separating Japanese children from their parents in internment camps during World War II, and ripping Native American children from their parents from the 1870s to the 1970s, and until 1865 ripping African American children from their enslaved parents.
You see, white supremacy has been ripping Black and brown babies from the breast of their mothers since its beginning.
This is who we have been.
But this is not who we have to be.
The good news of the Gospel of Christ is that we can choose to live a different way. We can choose to love our neighbors, to expand the borders so that no one is left out, to share our goods so that everyone has enough.
Because we're all connected.