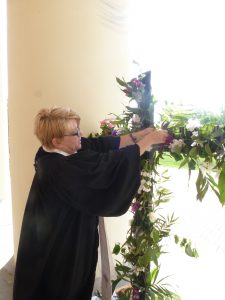 Today's sermon is based on John 14:1-7.
Today seemed like a good time to talk about preparing a dwelling place and where you're going because the Fall Semester is starting here at Wake Forest University. Many of you have entered a new dwelling place this week, right? New dorm rooms. New house.
But as I sat to write this sermon this week, I had all the things running through my head. All. The. Things. I had to make sense of ALL. THE. THINGS.
Things like Charlottesville, White Supremacist rallies, the pardoning of Sherriff Joe Arpaio. Missiles in North Korea. Hurricane Harvey pounding the Southern coast. Worrisome things.
And also wonderful things, like the total eclipse of the sun—I was the doubter who just wanted to stay home, and instead we drove to Winnsboro, South Carolina, and watched it with physics nerds from Davidson College who created a solar system models and help little children keep their safety glasses on. For one minute and 21 seconds, when the world went that eerie color, I was floored by my own insignificance in the Universe, and yet I found a sense of camaraderie with my fellow humans.
There are other things, too. Things like new beginnings, which so many of you are experiencing today, at a new university, in a new stage of your life. New jobs. New places to live. New experiences. New friends.
I wanted all of you to feel good when you leave here, and to know that there is work to do. I wanted to figure out a way to say, "Welcome to the next phase of your life. Honor the ways you got here. Be proud of yourself and grateful for those who brought you here. And finally, smash the patriarchy and dismantle white supremacy!"
I could think of no better thing to do than to look to the poets for guidance.
I started with David Whyte, who, in a 2017 TEDTalk explains that who we are is somewhere between everyone's expectations of us and our expectations of others. Your first task, as a first year student in college, is to spend time in that middle ground. To try new things, to discover new passions, and to figure out what you dislike, too. In every new stage of our lives, we must answer the question, "Who am I now?"
We have to work to rid ourselves of some false truths. We must make peace with the fact that we are vulnerable, and not immune to all the difficulties, illness, and losses of life. We must reconcile ourselves to the knowledge that we will have our hearts broken. And finally, that must become comfortable with the fact that we cannot see the future from where we stand. We live in vulnerable bodies, with vulnerable hearts, and we cannot see into the future.
David Whyte says in another interview, "The only choice we have as we mature is how we inhabit our vulnerability, … how we become larger and more courageous and more compassionate through our intimacy with disappearance. Our choice is to inhabit vulnerability as generous citizens of loss, robustly and fully, or conversely, as misers and complainers, reluctant, and fearful, always at the gates of existence, but never bravely and completely attempting to enter, never wanting to risk ourselves, never walking fully through the door."
In our text, Jesus is inhabiting that vulnerability "Let not your hearts be troubled," he says. Jesus knows what's coming—that his body is vulnerable, even to the cross, that his heart will be broken by his friends, like Peter's denial, and that even he doesn't know exactly what will happen. It's the human condition. This is his goodbye speech. "Let not your hearts be troubled," he says.
And it's important that we started with the incarnation in the earlier text, John 1:1-5. "In the beginning was the Word… The light shines in the darkness, and the darkness doesn't overcome it." David White calls incarnation, "becoming visible in the world." And it's a work we do all our lives. "To be human is to become visible while carrying what is hidden as a gift to others." Throughout our lives, we become more and more visible—and our gifts become bigger.
Knowing these limitations, we must still ask the question, "Where do I want to go?" And getting there—getting to the place we want to go—takes deliberate steps, but also flexibility. Things will work to dishearten us. Things will take too long, be too hard.
So then, what do you do?
Well, you construct a community. If you haven't already, you can do that here, in this space, with these folks. Or with your new roommates, or with a group of likeminded folks on campus. Maybe you organize a community around your loves—music, nerd-stuff, politics or pizza. If you haven't already heard, Barbecue is a religion around these parts, and ACC basketball, too. Maybe you organize a community around your hopes for the future.
David Whyte writes:
Put down the weight of your aloneness and ease into the

conversation. The kettle is singing

even as it pours you a drink, the cooking pots

have left their arrogant aloofness and

seen the good in you at last. All the birds

and creatures of the world are unutterably

themselves. Everything is waiting for you.
And once you know who you are, and have a community around you, you find a purpose. My purpose is offering love—and is centered around the belief that acceptance is the greater part of love. I found my purpose doing of things I liked, and a whole lot more things I didn't like.
I don't know what your purpose is. Maybe it's to cure cancer. Maybe it's to write the next Hamilton. Maybe it's to be the next Serena Williams. Maybe it's to build at business that at one time creates incredible wealth and solves major issues in the world. Maybe, just maybe, it's to smash the patriarchy. But maybe it is going to Mars.
And speaking of Mars, here is a poem written by Nikki Giovanni is called We're Going to Mars. I believe it speaks to finding our purpose.
We are going to Mars for the same reason Marco Polo rocketed to China,

For the same reason Columbus trimmed his sails on a dream of spices,

For the very same reason Shackleton was enchanted with penguins,

For the reason we fall in love,

It is the only adventure.

We are going to Mars because Perry could not go to the North Pole without Matthew Henson,

Because Chicago could not be a city without a Jean Baptiste du Sable,

Because George Washington Carver and his peanut were the right partners for Booker T.

It is a life-seeking thing.

We are going to Mars because whatever is wrong with us will not get right with us so we journey forward, carrying the same baggage

But every now and then leaving one little bitty thing behind: maybe drop torturing Hunchbacks here, maybe drop lynching Billy Budd there, maybe not whipping Uncle Tom to death, maybe resisting global war.

One day looking for prejudice to slip,

One day looking for hatred to tumble down the waste side,

One day maybe the whole community will no longer be vested in who sleeps with whom.

Maybe one day the Jewish community will be at rest, the Christian community will be content, the Muslim community will be at peace

And all the rest of us will get great meals at holy days and learn new songs and sing in harmony.

We are going to Mars because it gives us a reason to change.
Find yourself. Create a community. Live your purpose. And always remember: The light overcomes the darkness. Amen.