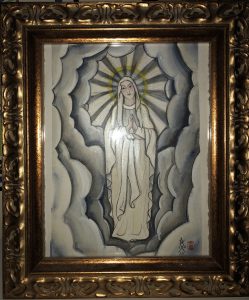 A sermon by Lia Scholl
In preparation for this sermon, I read two texts. One helped, called Woman Clothed with the Sun and written by Joyce Hollyday. The other, which I accidentally read, was the Matthew Henry commentary  which describes the woman clothed with the sun like this:
"The weaker part of the world, who only has righteousness in the Lord Jesus Christ.
"Having put on Christ, who is the Sun of righteousness, she, by her relation to Christ, she is invested with honourable rights and privileges, and shines in his rays.
She "only thinks of things that are in heaven, where her head is, with a crown twelve stars, gives glory to the twelve apostles"
To hear Matthew Henry tell it, this is the story of a weak woman, a woman with no value of her own.
If that were true, she wouldn't be one of the Fierce Women of the Bible.
Instead, our text is a "beautiful portrait of a woman empowered. She is clothed in sun, upheld by the moon, crowned with stars, swathed in the power of Creator and creation. Her womb is brimming with life, vibrant with possibility. The world is hers." (Hollyday)
She is a woman of power.
And she is fighting a dragon.
One year ago today, I was standing in the parking lot of First United Methodist Church Charlottesville, peering over State Police with riot gear, watching what used to be called Lee Parknow called Emancipation Park EXPLODE.
Midway through the day, my phone died. My charger was in my car, about 5 blocks away from our safety zone.
My dear friend Pastor Robin Bolen Anderson and I decided to brave our way to the car. We were in clergy dress, black shirts and collars. It's not subtle. We had already been snarled at because of it.
We began walking towards the car, through a densely packed, residential neighborhood, with postage stamps for yards, no driveways, and street parking.
Suddenly, Robin pushed me into a yard. "Get down!" she demanded, and physically pushed my shoulders down. And I found myself crouching low on the ground.
I looked into the street and saw a white pick up truck, bed packed with young men and guns, driving up the street.
Fear gripped me.
And then I noticed that Robin had hidden us behind bushes…
Sparkling new tiny little fairy bushes, no more than 18 inches high.
I'm hiding behind a miniature bush.
And I'm shaking and shaken.
The truckload of white supremacists passed, and we hurried to the car, and on our way back, we found two men to walk with and hurry back to the safety zone.
I am not one of those women of power. But I know we're fighting a dragon. It's the dragon of white supremacy.
I learned on that Saturday in August that things are a lot worse than I thought they were. I learned it when I saw a young man in a white polo shirt and khakis toss his backpack into the head of a counter-protester and watched her fall to the ground, bloody. and the police officer standing by did nothing.
I learned it when I watched the Virginia State Police and the Charlottesville Police standing by—not going after men who had discharged their guns.
I learned it when President Trump said, "I think there is blame on both sides."
I learned it again two weeks ago when Portland police were "heavy-handed" with people protesting a rally by extreme-right demonstrators. The police stood with the alt-right rally, instead of against them.
I learned it again yesterday when President Trump tweeted "I condemn all types of racism and acts of violence." When we all know that there's only one type of racism.
Things are a lot worst than I knew. Racism is a dragon.
And it's a beast.
Just this week, our dear sweet young friend, an 8-year-old girl, had one of those moments that happen at summer camp, a misunderstanding that escalated. A young boy threw a ball and hit another boy, but the second boy thought she threw it at him. The boy yelled at the little girl. And when he did, he used a racial slur.
She came home to ask her mother: why did he do that? It's the first time someone has used her race against her to her face.
Her mother called me crying. "I had to have 'that talk' with my baby. I didn't think I'd have to have it so early."
Racism is a dragon.
And in our text, the woman clothed with the sun is attacked by the dragon.
Hollyday tells us that the dragon is a monster so large his tail can take out a third of the stars in one swipe. He stands there, by her side, jaws open and ready to devour the thing she loves most:
Her son, the one who is to rule by the power of justice. But her son is snatched away, by the bearers of children to God. He is safe. The woman is safe, too… but in the wilderness, far from all that is comfortable and known.
But the dragon is not through… He pursues the woman. This time, she is given the wings of an eagle to soar away and back to the wilderness.
She soars in "glorious freedom and creativity" in the end.
You know, the woman clothed with the sun may be Mary.
But the woman clothed with the sun may also be the Church.
And if she is the church, we know her. We know the joyful agony of giving birth to something, whatever it is we are bringing to life, whatever our longing and labor. And we all know that the monsters lurk, threatening to devour our creativity, our confidence, our life.
But in the end the dragon loses.
The woman soars in glorious freedom and creativity.
In the end white supremacy loses.
The church soars in glorious freedom and creativity.
How do we defeat the dragon?
We do it with love.
We do it like Rose says in The Last Jedi, "Not fighting what we hate. Saving what we love."
We love little girls like our friend, and we create a new world where she doesn't grow up hate herself because someone has called her a racialized slur, a new world where she grows up knowing that she can be woman clothed with the sun, and defeat the dragons, and fly away to creativity and freedom.
We do it by thinking of our church as a movement for people—not a place with walls, not a gathering that happens on Sunday mornings, not just a community of people, but a people with a mission—to slay the dragon of racism, to be such a strong community that we raise little Black girls into strong Black women, to be such a strong community that we build friendships people different than us, strong friendships, that help people who are lonely, people who are broke and broken, people who are in need of a community around them, people who are longing for connection—and remembering that togetherness fights the fascism that we only got a glimpse of in Charlottesville a year ago.
We do it by loving people so well, that they understand that God loves them like crazy. That God is carrying their baby book around in her pocketbook.
You see, we are the woman clothed with the sun, with the moon under our feet, and on our head a crown of twelve stars. God bears us up on wings. And we soar with God.
Charlottesville tried to break me, y'all. For months after, I had violent dreams. In every one of these dreams there was an expectation that I would fix all of this. That this was my fault, and that fixing everything was my responsibility, too. I woke each day heavy, with a burden in my heart, because I didn't know what to do. I didn't know how to fix everything.
And still, a year later, I don't know how to fix everything.
But I do know how to love, and I can take a little girl into my arms and teach her that she is worthy of every good thing, that she is good and strong and worthy of love, that she is a fierce woman in the making.
I can teach her that racism doesn't have to change who she is, and that white people have no right and no ability to make her any less than who God has called her to be.
And maybe that will be enough, for now.
Will you join me?