On Saturday, October 14, 30 members and friends of Wake Forest Baptist Church showed up to stand with our LGBTQ siblings at the Winston-Salem PRIDE parade. Pastor Lia promised to wear a tutu if 20 showed up, so she tutu-afied. And we had a bubble blowing unicorn on our parade truck.
Here's a picture of our crowd: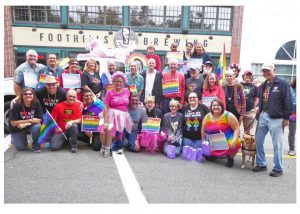 Thanks to all who showed up to show our LGBTQ siblings that exclusion and discrimination are not the Christian way!