written by Pastor Lia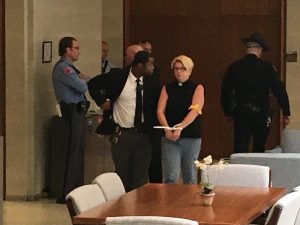 The theme of the second week of the Poor People's Campaign was "Linking Systemic Racism and Poverty: Voting Rights, Immigration, Xenophobia, Islamophobia, and the Mistreatment of Indigenous Communities." That's kind of a long title. But it encouraged me.
I love some people who are immigrants, documented and undocumented. I toured Stewart Detention Center, a for-profit detention center run by ICE (Immigration, Control and Enforcement) and heard directly from detained people that the water there runs black out of the faucets… that's when there is water. I have trusted colleagues who are Muslim. And I believe that this nation was built on two lies: 1) that God was on the side of the Europeans who came here, and 2) that we came in peace.
I decided to risk arrest by direct action in Raleigh, N.C. on the second week of the Poor People's Campaign because I think racism and poverty are connected, and, as the song goes, somebody's hurting my people, and it's gone on far too long.
So we gathered in the General Assembly, sang songs, chanted, and demanded justice for Black, brown, and poor people. And we were arrested.
(For those of you who are Alliance of Baptist folks: I was arrested with fellow Alliance folks from Circle of Mercy in Asheville!)
Little did I know, though, what I was in for in the Wake County Detention Center. You see, I was born in Tokyo, Japan; my father was in the Air Force. I was asked my birthplace, and that won me an interview with an ICE agent. Oh, the irony! By the way, proving your citizenship isn't easy, even if you speak the language. I could imagine the fear I'd feel if I didn't speak the language.
I've had a few people ask me what difference getting arrested makes. Civil disobedience is a public act of disobeying the law—and its purpose is to convey a political message. What's the message of getting arrested and charged with trespassing in the General Assembly building? It is simply this: This building belongs to the people… All the people…
Including people of color who are impoverished because of generational discrimination. Including indigenous people imprisoned on lands that they must call "home." Including people forced out of their countries of origin because of our failed policies. Including the people who have lost their votes because of voter suppression, gerrymandering, and voter ID laws. Including people fleeing their countries of origin because of persecution, whatever their religion.
There's a chant that we said most weeks during the Poor People's Campaign, and it was true as I sat in the General Assembly building as it is today… "Whose House? Our House!"