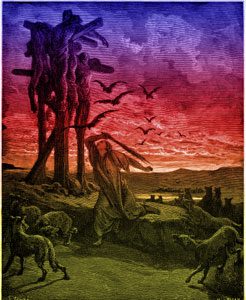 A sermon by Lia Scholl
The Story of Rizpah:
Rizpah was the daughter of Aiah, and one of Saul's concubines.
After the death of Saul, Abner, one of Saul's lead soldiers, was accused of sleeping with Rizpah, resulting in a quarrel between him and Saul's son and successor, Ishobeth. The quarrel led to Abner's defection to David, who was then king of the breakaway Kingdom of Judah. This incident led to the downfall of Ishbosheth and the rise of David as king of a reunited Kingdom of Israel.
A famine lasting three years hit Israel during the earlier half of David's reign in Jerusalem. This was believed to have happened because of "Saul and for his bloody house, because he slew the Gibeonites." The Gibeonites were not Israelites, but the remnant of the Amorites, which Saul pursued from within Israel. David inquired of the Gibeonites what satisfaction they demanded, and was answered that nothing would compensate for the wrong Saul had done to them but the death of seven of Saul's sons.
David accordingly delivered up to them the two sons of Rizpah and five of the sons of Merab, Saul's eldest daughter, whom she bore to Adriel. These the Gibeonites put to death, and hung up their bodies at the sanctuary at Gibeah.
2 Samuel 21:10-14.
10 Then Rizpah daughter of Aiah, the mother of two of the men, spread burlap on a rock and stayed there the entire harvest season. She prevented the scavenger birds from tearing at their bodies during the day and stopped wild animals from eating them at night. 11 When David learned what Rizpah, Saul's concubine, had done, 12 he went to the people of Jabesh-gilead and retrieved the bones of Saul and his son Jonathan. …13 So David obtained the bones of Saul and Jonathan, as well as the bones of the men the Gibeonites had executed.
14 Then the king ordered that they bury the bones in the tomb of Kish, Saul's father, at the town of Zela in the land of Benjamin. After that, God ended the famine in the land.
These are the words of Octavia Butler, an African-American science fiction writer: 
All that you touch
You Change.
All that you Change
Changes you.
The only lasting truth
is Change.
God
is Change.
Rizpah wasn't someone you would have suspected of being able to change anything at all. A concubine in King Saul's court, she was, essentially, a slave.
Perhaps as an act of defiance against Saul, Abner laid with Rizpah, and when he was accused by Saul's son, did not deny that he had been with Rizpah, just acted as if he was owed her.
When King Saul died his violent death, Rizpah should have been moved into his son's harem, but she wasn't, because of Abner.
Years pass.
Famine comes into the land, and then-King David asks God why it has happened.
God says that the famine has come because of Saul's sin of killing Gibeonites. So David summons the Gibeonites and asks how they can be appeased. The Gibeonites say, "Let seven of Saul's sons be handed over to us, and we will execute them before the Lord at Gibeon, on the mountain of the Lord."
So King David does as they ask, and two of the sons he hands over are Rizpah's.
The Gibeonites execute the sons, and toss their remains where the wild beasts and the carrion birds can pick at them.
All that you touch, You Change.
Even as she was, marginalized, powerless, enslaved, Rizpah changed all that she touched. She changed the trajectory between Saul and Abner, which caused Abner to support David, which caused David to be king.
She changed history.
All that you Change, Changes You.
Abner's abdication of Saul changed Rizpah's situation. She was no longer protected in Saul's harem. No longer protected as Saul's family. She couldn't trust the people around her to take care of her.
I wonder who she blamed.
But then, I think, at this point, surely Rizpah has to begin telling the story of her life differently. I would think that standing out in a field, fending off wild animals and carrion birds, she would have to have stopped blaming victim of others, begun to see that she changed things. And not just that, but that she had made decisions that helped create the spot she was in now.
There's an advice column on the web called "Ask Polly." This week, Heather Havrilesky (Polly) answered a woman whose letter went something like this:
"My life is totally scrambled. My husband left me 17 months ago after 11 years together. At the time we had a 2 year old son, and I was on medication for postnatal depression.
"I owned my own business. My ex was out of work for about 18 months, so I invited him to join my business, where he worked for six months. Four days before he left me, he talked me into signing documents making the business ownership fifty-fifty. In the divorce, he won total rights to the company.
"I feel abandoned. And sad. I still think about my ex all the time and wonder how I can possibly get him to change his mind. Sometimes I think maybe I should try to be friends with him, but I know it's actually about getting back together, and it will be too devastating when he inevitably meets someone else and moves on.
"Sometimes I feel venomous hatred toward him, but I also really think that's covering this deep sadness."
She signed the letter, "Scrambled," and made her husband sound like the good guy.
Polly responds…
"Your husband… left you when your son was 2 years old and you were struggling with postpartum depression. He worked for your business for all of six months, then manipulated you into making it fifty-fifty with him KNOWING HE WOULD BE LEAVING, then TOOK THE WHOLE gosh darned COMPANY.
This isn't just abandonment. This is cold, calculated, self-serving thievery.
"No wonder you can't imagine starting over! No wonder you can't quit dating! No wonder, no wonder, no wonder!
"The world beat in your kneecaps with a tire iron, then handed you a scented candle and said, "Believe in your dreams!" So this is why you're stuck. You're trying to process this pain without looking at the full truth of the pain.
"I'm not asking you to stop feeling sad. I'm asking you to start feeling EVERYTHING. Your fear of your anger is blocking all the joy. Feel it."
Can't you imagine that THIS is what Rizpah discovers sitting out in the open air, day and night, running off wild beasts and carrion birds?
That not only had she thought herself a pawn
in someone else's game,
that maybe she was seeking to forgive,
and maybe she was blaming herself,
and that ultimately, Abner, the secret lover, was a jerk???
That somehow "the world beat in her kneecaps with a tire iron…" and wanted her to accept the whole thing? Can't you imagine, that beating back the wild beasts and carrion birds, Rizpah felt everything?
The only lasting truth is Change.
Now the truth is, not all change is like the change that Rizpah experienced. She is in the midst of experiencing soul-crushing change.
Change that makes food taste bad in your mouth.
Change that makes you bone weary.
Change that makes you feel physical pain.
Change that breaks relationships.
Change is hard, isn't it?
I'm always tempted to list out all the changes that have been happening in our lives, but why don't you do it? Tell me about the changes in your life?
[At this point, I asked the congregation what changes they were going through. Some mentioned changing relationships—between parents and children, children and parents, others mentioned divorce, another mentioned a death that feels both sad and full of relief. Still another mentioned a journey with an alcoholic, and learning that they cannot control others.]
So let me ask you…
How does it make you feel if I say, "God is Change?"
Adrienne Maree Brown believes it makes sense. She believes that the nature of the world is change… when there was nothing, change happened, and then planets and stars appeared. Then some change happened and magic and miracles happened. Change, change, change… Amoebas, tadpoles, whales. And we are not the end of this journey. How could God create that much change in the system and not embody change in God's self?
And if God is change, what does that mean to Rizpah?
It means sitting in the dark…Accepting what has happened and feeling it.
It means trusting that other change can come, and that not all change is bad. Rizpah brought about restoration of Saul's place in the history (and tomb) of his family, along with her sons.
It means we're not alone in the change. God is right here with us.
It means that God is not shaken by change.
Oh friends, change is gonna come. Accept it, trust that it is not all bad, believe you are not alone, and believe that God has got this.
All that you touch
You Change.
All that you Change
Changes you.
The only lasting truth
is Change.
God
is Change.
Here's a little prayer from Michael Leunig, an Australian poet.
God help us to change.
To change ourselves and to change our world.
To know the need for it.
To deal with the pain of it.
To feel the joy of it.
To undertake the journey without understanding the destination.
The art of gentle revolution.
Amen.