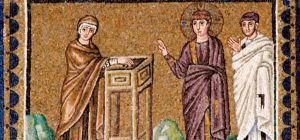 A sermon by Pastor Lia Scholl, based on Mark 12:38-44.
As you know, we're in our second stewardship sermon. Last week's sermon was called "Show Up," and I tried to focus on what it means to be a church member: how we show up with our whole selves, in order to serve the whole world.
We talked a little about how church members are supposed to be unifiers, because "when the church members don't work together, the church is weaker as a whole."
We also talked a little bit about how some church members come to be served, believing that their tithes and offerings mean that they get to choose the music, boss the pastor, pick the programming. Instead, when we come to church, we're privileged to get to serve—to share the hope of the Kingdom of God, God's promise of peace, equality, and justice.
Today's Gospel lesson is being preached all over the nation, and this widow is being used as a perfect example of serving the Temple—giving enough that it hurts, while the rich people are just giving a small portion of their income.
But what if all those sermons are wrong? And today's text is really the opposite of all of that?
Her story goes like this: A husband and wife go to the Temple, it is the center of their social life and their religious life. The husband, believing he is providing for his wife after he dies, wills all of his money to the Temple, with the provision that they will care for his wife. Remember that women can't own property in these times. Then the husband dies.
The scribes take the money. They likely give the widow a pittance to live on, like scraps to dogs, and in order to keep on giving her the pittance, they expect her to show up at Temple… and to give. The scribes have exploited her misfortune, treated her with contempt, and have forced her to give, even as they keep her in poverty to line their own pockets.
So this story is neither a story about tithing, about expectations, about gratitude, or even a halfway good example of why we should give to our church.
So then why should we give?
I think we should start with the question: Why do you come to church?
Do you come to please your spouse?
Do you come to meet new people and socialize?
Do you feel obligated to be here?
Do you come to be a part of a faith community?
Do you come to become closer to God?
Do you come to be a better person?
Do you come to change the world, to make a difference in someone's life?
Do you come for comfort in times of trouble or sorrow?
What if we pledged based on our reason to be here?
If you're here to please your spouse? Go ahead, make a small pledge. You've driven all the way here, plastered a smile on your face. Just reach back, pat yourself on the back, and just drop a few dollars in. We're glad you're here, and we just want to make it easy on you.
If you're just here to see your friends, you too can make a really small pledge. Maybe just enough to cover your share of the bills—ten bucks or so a week should cover the reception you partake in, the music you've listened to, the tiny piece of bread you ate with grape juice.
Really. You have very low expectations—our expectations of you should be the same.
And if you're here to build your business rolodex? (I know, I just lost some of you young'uns. A rolodex is like your contacts in your phone). Give a little more. These folks might frequent your business. But don't expect too much—we're a lot of older folks, we don't get out as much as we used to, and many of us are no longer homeowners, or not homeowners just yet. You may not make back your investment.
But if you are here to be closer to God? Well, you might need to give a little more. Sometimes it feels like we have to offer more of ourselves in order to break down our own internal barriers to God. We have to feel a little more vulnerable, a little more invested, a little more open—including our pocketbook.
And are you here hoping to be a better person? Have you looked at the patterns of your life and do you find yourself wanting? Like there's anger, hatred inside you, and you want to be filled with love?
Then you should really give. Give like your life depends on it. Pay like you're paying for health insurance, only it's heart insurance.
And if you want to change the world? Well, you've got to invest all of it. Yourself, your heart, your time, your money, your energy, your resources. There's no way to do this superficially. You gotta be serious. And it's not just a Sunday morning thing. Not just a day or two a week. It's every day. Every hour.
But what about those of you who come here for comfort? You're not feeling okay. You don't want to just change—you want to make it through the week, through the day, maybe even through the hour… You might be struggling with suicidal ideation. You might be overwhelmed with loneliness or anxiety. You might be hungry, homeless, hopeless.
You know what we want from you? We want you to find what you need. Giving your tithes and offerings is not necessary. All we want from you is to know how we can serve you.
Those of you who want to change the world? You can start right there. How about if you give so that the person sitting across from you can get what they need? Whether it be time, energy, money or just. a. hug.
Our text doesn't say it, but I believe that when Jesus saw that widow across the way, putting in her last two mites, she who had been exploited, used, abused, and cast aside for nothing, I think he walked right over and helped her.
Or if he didn't do it, one of his disciples must have. Someone pulled that exploited, used, abused and cast-aside widow out of the river of corruption that the Scribes had created.
I think Jesus and the disciples likely thought of the widow of Zarephath from our Hebrew Bible text this morning. She too had very little.
The prophet Elijah asks her for a cup of water and a piece of bread. She argues that she doesn't have enough, and he answers, "this is what the Lord, the God of Israel, says: There will always be flour and olive oil left in your containers until the time when the Lord sends rain and the crops grow again!
When the widow did as she was asked, the text tells us, "There was always enough flour and olive oil left in the containers, just as the Lord had promised."
Friends, you will get what you expect when you come in this place. If you only expect to hang out with your friends, you'll receive just that… If you only expect to find a way to pat yourself on the back, you'll find that… But if you expect to get what you need, you will get what you need. And if you expect to give what others need, you will give what others need.
Amen.