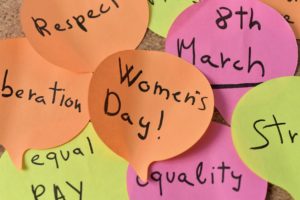 Today, March 8, is International Women's Day. Usually this day celebrates the strides made in women's rights and the contributions women make to the world.
But this day will be different. Many woman across the country and across the globe will be on strike. Including me, your pastor.
I will strike because women still make $.78 to each man's $1.00. I will strike because women work outside the home but still do the majority of work in the home. I will strike because Ohio representatives are refusing to support legislation that makes drugging and raping your wife illegal. I will strike because the new administration reinstated the global gag rule so that NGOs who receive money for health access for women around the world can no longer mention abortion as an option, including to save the life of the woman. I will strike because the so-called "religious liberty laws" may allow people or institutions to support marriage exclusively as the union of one man and one woman.
I will strike because women's rights are human rights, and I will settle for nothing less than equality.
I'm not in the office today. If you need me, I'll be at home doing some things I love. I'll be baking bread, going for a long walk, sewing, and maybe even knitting. I'll be at Wednesday night supper tonight, where the men are cooking dinner. You're welcome to join us… I hear that pizza is for dinner. And I'm going to write a few notes today, to some amazing women who have been my role models and mentors and friends, to tell that I am so grateful for the love, generosity, and intelligence they bring into the world.