A sermon preached Easter Sunday, April 16, 2017 by Lia Scholl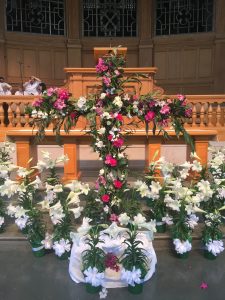 I walked away from church when I was about 19 years old.
I knew someone who worked at our church and poor people came to the door every day. She told tales of people being turned away hungry. And yet, the church spent tens of thousands of dollars on chandeliers. The poor were not important.
There was my New Testament professor who said, "You don't have to believe in the miracles of Jesus, you can still believe in Jesus." My reasoning went something like this: If I don't have to believe the miracles, I don't have to believe any of this!"
And then there was my World Religion course, where it dawned on me to ask, "If you put a Muslim, a Christian, and a Jew in the same room, all of whom really believe their vision of God, how can you have the audacity to say that one of them is wrong?"
And finally, the football coach from my college had became my college Sunday school teacher. Every Sunday morning, Coach Terry Bowden, son of the famed Bobby Bowden of Florida State, would describe Christian living "You gotta get in there and GO FIGHT WIN!"
Instead of staying at church and trying to understand, my brain imploded and I walked away. For a bit of time, I called myself an atheist, until I had a dream that I drove my car off a ledge and it was spinning and spinning out of control, and I cried out in my dream, "Help me Jesus!" Then I knew I wasn't an atheist.
So then I started calling myself an agnostic. I still love the way the word agnostic is a fancy way of saying "not-knowing."
I spent a good many years not-knowing. Trying very hard to make sense of a theology that was taught in Sunday school and sermons and really bad hymns. A theology that, frankly, didn't work for me.
I couldn't believe in a God who justified violence by saying, "it's your cross to bear."
I couldn't believe in a God who justified sexism by saying, "Wives, submit to your husbands."
I couldn't believe in a God who justified racism by saying, "You shall not be unequally yoked."
I couldn't believe in a God who would cast people into hell because God didn't choose them.
I couldn't believe in a God who didn't honor all kinds of love.
And I couldn't believe in a God whose church spewed way more hate than love, way more exclusion than inclusion, way more "Go Fight Win" than the first shall be last.
I stayed not-knowing for a really long time.
But not-knowing was not the same as not-wanting,
not-craving,
not-wishing,
not-hoping.
Not-knowing was full of pain.
I wanted to connect with God, but I needed it to be a God whose love outweighed all those other objections.
I needed a God who loved e'rbody, who believed in the equality and acceptance of all, regardless of race, gender identity, sexual orientation, intellect, a God whose invitation was wide-open to all.
I needed a God who couldn't cast someone into eternal damnation, because it wasn't in God's nature to ever give up on anybody.
And I couldn't find that God anywhere, especially not in church.
You might be wondering how I got here, in this pulpit. It was after nearly a decade of not-knowing.
I spent a couple of years of "getting my toes wet," reading people's thoughts about God. And trying to find a church that was trustworthy. I tried to understand that there was a different way—theology that isn't angry or mean, stories of God that honor love, a focus on social justice and people who take the poor seriously.
Honestly, it was at the end of several years of wet toes that I realized, I believe in resurrection. I was standing in the shower on Easter Sunday morning and thought, "Yeah. Resurrection is cool." Because I had lived it.
I'm here. I love Jesus. And I love the church. And I feel loved and accepted by God.
It is precisely that realization about resurrection that draws me to the church.
I believe in resurrection.
I believe in the resurrection of individuals and the resurrection of societies.
I believe that the whole world can be resurrected.
And I believe that work starts with the church… and your participation in it.
Let me explain…
There are two visions of the world right now—one is a fright-filled vision where our identities keep us apart.
The other is a love-filled vision where our diversity brings us together and makes us stronger. And that love-filled vision where diversity brings us together and makes us stronger is the dominant theme of the Bible, of Jesus' life and death, and the dominant theme of the history of the early church.
It stands in opposition to the fear-filled vision,
where Bill O'Reilly is lauded during Women's History Month,
where bombs are dropped on Holy Days,
where friendly fire kills our allies,
where politicians re-write history denying the holocaust on the first day of Passover,
where the Attorney General writes a speech filled with hate against immigrants,
where fears of nuclear war run rampant on Easter.
God's vision, where God and our difference brings us together is how that ragtag group of disciples lived together, and where we find them today, at the empty tomb.
God's vision looks like Muslims, Jews, and Christians working together to ensure the safety and security of undocumented Latinx immigrants.
God's vision looks like LGBTQ Christian men and women visiting mosques and temples to turn their neighbors into friends.
God's vision looks like little old ladies using the men's room in opposition to HB2 and its replacement bill, being allies and accomplices to the trans community.
God's vision looks like white people saying, "Black Lives Matter" and working to end systemic racism, fighting the school to prison pipeline and police brutality and racial profiling.
God's vision looks like men standing up to their coworkers when they sexually harass women, men making sure that their companies are offering equal pay and equal opportunities to women.
How will you know if you've found that kind of God?
Love looks like love. People judge, say hateful things, ridicule others all under the guise of love. But if it doesn't feel like love? It isn't love.
God loves you so much, every one of you, that your picture is right there in God's wallet.
The death, burial and resurrection of our Lord Jesus Christ proves one thing… Love wins. Love wins. In the end, love wins.
Amen.