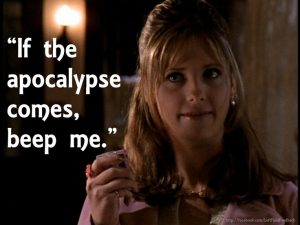 A sermon by Lia Scholl
Every year, on this first Sunday of the new school year, I have massive anxiety. I feel like I need to give all you new students a word of wisdom, that wisdom must be perfect for the rest of the church, too.
And to top it off, the first Sunday of the new school year is also my anniversary. So it should be doubly good—in four years, I should have it down!
But my words often fail me, and I find no better way to approach today than to ask for the wisdom of the poets. The poem today is called Blessing When the World is Ending by Jan Richardson.
Please pray with me.
God of grace, look down on your servant right now and give me the grace to preach this message. Please God, make it a message worthy of the giftedness of this gathered community. Amen.
I have spent the week thinking about apocalypse.
Not THE APOCALYPSE, that thing that people think the Book of Revelation reveals. That apocalypse doesn't take up very much space in my head. Whenever I hear people threatening about it, I just think, "Well, God's got this. We'll be fine."
But I'm thinking about apocalypses. The ones that aren't capitalized.
They are the (relatively) small apocalypses. They are those crises that turn everything upside down. We call them disasters. They are the things that happen that change the way you are in the world. They are calamities.
Poet Jan Richardson writes:
Look, the world
is always ending
somewhere.
Somewhere
the sun has come
crashing down.
Somewhere
it has gone
completely dark.
Somewhere
it has ended
with the gun,
the knife,
the fist.
Somewhere
it has ended
with the slammed door,
the shattered hope.
Somewhere
it has ended
with the utter quiet
that follows the news
from the phone,
the television,
the hospital room.
Somewhere
it has ended
with a tenderness
that will break
your heart.
We all know about natural disasters: tornados, floods, earthquakes, big storms.
But these are the personal apocalypses. They run the gamut. Failing a class. Wait. It's doesn't have to be a class, it can be failing at a job, failing on a team, failing an exam, or like me as a college freshman: failing to care that you've failed out of school.
We can lose lots of things: relationships, health, money, time.
We can fall victim to many things: violence, predatory scams, bullying.
You know, the writer of Isaiah is no stranger to apocalypse. In the chapter prior to today's, the prophet writes:
This is a people plundered and looted,
all of them hidden away in dungeons,
or forgotten in prisons.
See? The writer knows apocalypse.
So in today's text, the writer shares his survival guide.
But now, hear the word of Yhw
the One who created you,
the One who fashioned you, Israel:

Do not be afraid, for I have redeemed you;
I have called you by name; you are mine.

When you pass through the seas, I will be with you;
when you pass over the rivers, you will not drown.
Walk through water, and you will not be singed;
walk through flames and you will not be burned.
You hear it, right? God created us, God saved us, and God will keep us forever. That's the best survival guide ever.
But maybe you need a couple of other tools.
I have a few suggestions:
First, don't be so hard on yourself. Perfectionism is over-rated! Mistakes happen, and we can learn and move on from them.
Second, recognize there's an imposed sense of urgency on your life. For some of you, that urgency is imposed by the illusive idea that there are benchmarks for your life. You go to college at 18. You get married at 22. You begin to have babies before 30. You hit the apex of your career at 40. Don't buy into the idea of urgency in your life.
Some of you elders, How many of you missed some of those benchmarks? (Three people raised their hands—one of them was 8 years old.)
And were you okay when you didn't? They all nodded.
Third, be in charge of what you value. Sometimes we can find ourselves doing behaviors because we're worried about what people think—but when it comes right down to it, we don't care about the thing they want.
It doesn't fit in your values, let it go.
Fourth, value quality over quantity. Are you ready to write papers that are 10,000 words long? What if you only come up with 9, 472, and it's perfect just the way it is? Let it go!
We often define success by bigger and more. For college and graduate school, it's better grades, for our first jobs, it's more money. But what if we asked, "how will my actions affect people seven generations from now?"
Bigger and more are not always better.
And there are two more:
Let's not fall into the trap of either/or thinking. No one, and nothing, is either/or. No one is good or bad, right or wrong, with us or against us. That person on your hall who makes you crazy? She's not all evil. The amazing beautiful person you just met and made fast friends with? She's not all good.
We're all a mix of all of those things. Seriously. Check out Not one single post out there on social media about John McCain gets it just right. He was, like all of us, a mix of good and bad.
And also, don't get trapped in the idea that there is only one way to do things. There are many paths to the place you want to be. And guess what? You will backtrack, you will go in circles, your life will not be a straight path. You'll fail. You'll have setbacks.
And STILL… will turn out okay.
Apocalypses will test us, help us to see what we're made of, and if done right, will teach us how to live.
Apocalypse doesn't have to destroy us.
In fact, did you know that after natural disasters, many people report that they feel happier, more connected, and less attached to things?
Out of apocalypse comes newness.
Isaiah 43:19 says:
Look, I am doing something new!
Now it springs forth—can't you see it?
I'm making a road in the desert
and setting rivers to flow in the wasteland.
Wild beasts will honor me—
the jackals and the ostriches—
for I will put water in the desert
and rivers in the wasteland
for my chosen people to drink,
these people whom I formed for myself
so that they might declare my praise.
And what can church and community offer? We can offer to walk beside you, through your apocalypse. We're here. We are not scared.
Oh, the poet can say it so much better than me.
But, listen,
this blessing means
to be anything
but morose.
It has not come
to cause despair.
It is simply here
because there is nothing
a blessing
is better suited for
than an ending,
nothing that cries out more
for a blessing
than when a world
is falling apart.
This blessing
will not fix you,
will not mend you,
will not give you
false comfort;
it will not talk to you
about one door opening
when another one closes.
It will simply
sit itself beside you
among the shards
and gently turn your face
toward the direction
from which the light
will come,
gathering itself
about you
as the world begins
again.
Amen? Amen.