written by Pastor Lia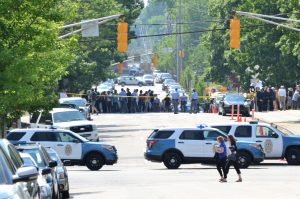 In  this time of injustice when children are being separated from their families, when a heavier tax burden is being placed on the poor than on the rich, when we've barred visitors from Muslim countries, when lands that are sacred to the first peoples are being desecrated by mining and polluted by greed, who do we follow?
In this time when faith leaders are throwing their weight around to support gun ownership, Muslim bans, and women staying in abusive relationships, who do we follow?
As I have sought to find worthy leadership, I've looked for three things: 1) competency, 2) clarity of purpose, and 3) inclusion of all peoples. I'm thinking about it this way: Moral leadership must be calling us to justice, it must be clear on goals, and it must actually be able to get its message out and organize people to make a difference.
There are individuals and organizations right now who have clarity of purpose, and who are doing good justice work. But few are making it on all three of those marks.
Enter the Poor People's Campaign: A National Call for Moral Revival. Convened by Rev. Dr. William J. Barber, II and Rev. Dr. Liz Theoharis, the Poor People's Campaign certainly has clarity of purpose. Their fundamental principles are rooted in "our deepest religious and constitutional values," and demand justice for all.
The Poor People's Campaign includes all—children, women, people with disabilities, people of color, immigrants, Muslims, Indigenous peoples, the Earth, those impacted by militarism, LGBTQIA folx, workers, the sick.
The biggest question I had was whether they were competent at organizing, getting a national movement off the ground. On May 14, the first of the 40 days of Moral Action, I was trained and ready to participate in a direct action event, which we did in front of the General Assembly. What I saw? Earnest people, willing to risk arrest, willing to stand for the poor, for women, for people of color.
The campaign stands in the great moral tradition of Dr. Martin Luther King, Jr. and it has strong leadership in Rev. Dr. Barber and Rev. Dr. Theoharis. Finally, the movement is being built with the voices and actions of the people. In the first day of action, there were rallies in 39 states, and more than 1,000 people were arrested.
Only time will tell whether the Poor People's Campaign will spark the national imagination to create change. For now, for me, it feels like it is full of potential!