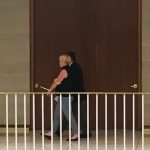 Dear friends,
As you know, I was arrested on Monday (May 21) with the Poor People's Campaign: A National Call for Moral Revival. I was charged with 2nd degree trespassing for sitting outside the office of Tim Moore (Speaker of the House), demanding an end to the systemic racism that fuels our current immigration system, the anti-Islamic and anti-Latinx rhetoric of our politicos and others, and voter suppression.
While I was detained by the police, an officer asked where I was born, and I answered, "Tokyo, Japan." That truthful answer earned me the pleasure of an ICE interview.
He asked where I was born… And I'm mostly fuzzy on the details… Tokyo Japan, or was it Tachikawa-shi, Japan? Still part of the Tokyo metropolitan area, but it makes a difference. "Oh, you were born on a base?" he asked. And I remember that somehow, no. I wasn't born on a base. "Are you a naturalized citizen?" Well, no. Somehow the paperwork that was required when I was really young wasn't necessary anymore. Where were your parents born? Hmmm. Illinois and Virginia? Or was that California?
I should know the answers to these questions. But I didn't. I was very young when I was born. And no one has asked me these questions in 50 years.
Then I mentioned my passport. "You have a passport?" he asked. They looked it up. Everything seemed fine. But then he fingerprinted me and took my picture, and offered me the chance to make a phone call. "Do I need to? Am I being detained?"
He assured me that I wasn't being detained by ICE. But that didn't calm my fears.
This system is designed to create fear in anyone who crosses it, even me, a well-educated, English-speaking, privileged white woman, a citizen of this nation. How much more awful is it for a young person coming through the system? Or for a person who has lived here and built a life here for years? Or someone who doesn't speak English?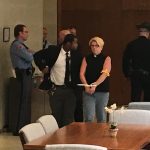 Whether citizen, married to a citizen, awaiting asylum, or even a DACA recipient, if you are "not from here," you are vulnerable to detention and deportation. Immigrants are detained as if they are criminals, but with no conviction, no due process, and very little legal representation. The for-profit detention centers are deplorable and inhumane. Stewart Detention Center, which I visited, has days with no water and, when they do have water, it comes out of the faucets black.
The Bible says "The alien who resides with you shall be to you as the citizen among you; you shall love the alien as yourself."
 We must continue to demand that our government create a just immigration system, a clear path to citizenship, and an end to fear.
Friends, I am so grateful for your love of justice, for your commitment to inclusion of all people, and for your support of this work. I love you, and I love being your pastor.
Warmly,
Lia