On the eve of the inauguration, I (Lia Scholl) gathered with a group of women (and men!) from Alabama who were spending the night in Greensboro on their way to the Women's March in Washington, DC. We enjoyed a wonderful concert by Kate Campbell, who sang this song:
As part of the service, I spoke of Dr. Martin Luther King, Jr.'s speech at Wake Forest University on October 11, 1962. This is a part of his speech:
…let me say to you honestly that there re some things in our social order to which I am proud to be maladjusted and I would hope that men of goodwill all over would be maladjusted to these things until the good society is realized. I must frankly say to you that I never intend to adjust myself to segregation and discrimination. I never intend to become adjusted to religious bigotry. I never intend to adjust myself to economic conditions that will take necessities form the many to give luxuries to the few. I never intend to adjust myself to the madness of militarism and the self-defeating effects of physical violence. For in a day when Sputniks and Explorers are dashing through outer space, and guided ballistic missiles are carving highways of death through the stratosphere, no nation can will a war. It is no longer a choice between violence and nonviolence; it is either nonviolence and nonexistence. And the alternative to disarmament, the alternative to suspension of nuclear tests, the alternative to strengthening the United Nations and thereby disarming the whole world may well be a civilization plunged into the abyss of annihilation, and I never intend to adjust to the madness of war.

And I say maybe the salvation of our world lies in the hands of the maladjusted. There is need now for a society of the creatively maladjusted. Men and women who are as maladjusted as the prophet Amos, who in the midst of the injustices of his day could cry out in the words that echo across the centuries, "Let justice roll down like waters and righteousness like a mighty stream."

As maladjusted as Abraham Lincoln, who had the vision to see that this nation could not survive half slave and half free. As maladjusted as Thomas Jefferson, who in the midst of an age amazingly adjusted to slavery could cry out in words lifted to cosmic promotions, "We hold these truths to be self-evident that all men are created equal and they are endowed by their Creator with certain unalienable rights that among these are life, liberty, and the pursuit of happiness."

As maladjusted as our Lord and Master, who could look at themes and women of his day, some of whom had been fascinated by the intricate military machinery of the Roman Empire and say to them, "He who lives by the sword will perish by the sword" and also, "Love your enemies. Bless them that curse you. Pray for them that despitefully use you." And I believe that through such maladjustment we will be able to emerge from the bleak and desolate midnight of man's inhumanity to man into the bright and glittering daybreak of freedom and justice…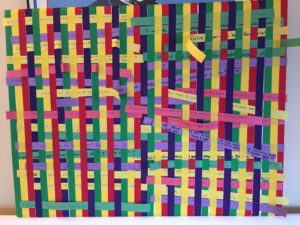 We set our intention to stay maladjusted, too. We wove those intentions into a frame.
I will stand for justice, mercy and grace for too vulnerable to stand for themselves.

I will not stand for low expectations of our daughters. They are the world. The strongest.

I want to be maladjusted to discrimination against women. I will not stand for women to be used.

Privilege. Hatred. Bigotry. May we seek justice for ALL. Freedom requires VIGILANCE.

I will not stand for people to lose their healthcare. I will not let individuals with disabilities be treated as less than others. I WILL FIGHT FOR EQUALITY FOR ALL!

I will not stand for the loss of the gains we have made toward universal health and mental health care. I will stand & fight until it is truly universal – a human right for ALL.

I will not stand for women's rights to be decided by the government. My body belongs to me.

I will call or write my congress to speak out. I will write what I believe to persuade others. Investigate. Document.

I will fight to support the oppressed and find love where there is none.

I will not stand for my granddaughters to be victims.

I will not be silent, but speak and listen with compassion.

I will not become adjusted to poor people losing their voices.

I will not stand for my granddaughter NOT to know the progress of her mothers, grandmothers, and great grandmothers.

I will not remain "properly polite" when people around me disparage those without political and economic power.

I will not stand for a blurred line separating church and state.

I will not stand for poverty or the segregation I live in.

I will not stand by and watch survivors of interpersonal violence suffer in silence. I will be a voice for the voiceless.

I refuse to allow my daughter to think that "being grabbed by the pussy" is normal.

I refuse to be maladjusted to a world where our country's leader decides the fate of our nation by whether he chooses "to get along" with other leaders.

The hatred and vitriol promulgated by Trump to divide my family. LOVE TRUMPS HATE.

I intend to be maladjusted: I will not allow women's voices to be silenced, or allow them to be disenfranchised or be cheated of the right to lead their country.

I will not stand for immigrants to live in fear. I will not stand for women to be treated as objects.

I will not stand for LGTBQ people to be made to feel less. I will not accept police brutality against anyone, no brutality against police. I will not accept Muslim or any other religious group, a cultural group, or racial group, being registered or discriminated against. I will not accept children growing up without a safe home. I am maladjusted for the U.S.A.

I will not stand for the loss of basic health insurance for all!

I will not leave. I will tell people around me that things aren't supposed to be like that.

Our LGBTQIAs will not have to settle for less than equal.

I refuse to let bullying, hatred, and injustice be normal.

I will not stand for injustice anywhere. I stand for women who are abused, left out, unable to find for themselves. Same for LGBT people, handicapped persons, black, Hispanic, African, Muslim, Hindu persons. I will speak out and act for their people.

#maladjusted => mental health services to those in need = human right. Not just those that can afford to pay for it — those caught in the "justice" system.

I want to be maladjusted by standing for women's rights over their bodies.
What about you? What will be your intention?