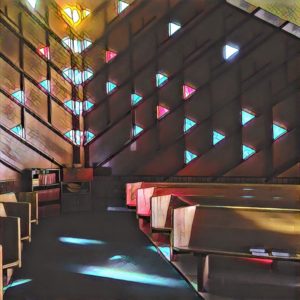 A Review by Elizabeth Corney
Sunday, January 22 2017, two days after the inauguration of a new president, about one hundred people gathered at Parkway United Church of Christ for a prayer vigil. Already, controversy swirling as the press and the new administration went head to head over which "facts" to report. Despite the energy of the Women's March, there was still a sense of concern for the coming days.
In the face of uncertainty, people of faith came together to pray and read from their sacred texts. One part of this particular service included a litany that Elizabeth Corney wrote with help from ministerial colleagues. Perhaps you would like to use it in your own prayers.
Merciful God, we are grateful for your care and faithfulness to us in past ages. You strengthen oppressed people calling them to break down walls in hopes of a better future.

We are grateful for those who have gone before us in the struggle for liberation. We celebrate their work and their victories securing our freedoms.

We fear for the future, some of us for our very lives. Already, we see hate seeping into the mainstream as space and bodies are violated. And so, we pray…

For those facing loss of health care coverage.

For those who are LGBTQIA and whose very right to exist is under attack not just by lone vigilantes, but the very institutions meant to protect them.

For women, whose rights must include physical safety, economic equality, and bodily autonomy.

For people of color threatened by state sanctioned violence, lack of resources, and the school to prison pipeline.

For all whose faith marks them as targets for hate speech and violence.

For refugees fleeing turmoil and for immigrants seeking the American dream.

For Mother Earth facing destruction for our worldly gain.

For our protections provided in the Constitution

Strengthen us to stand up for justice for all people. Help us restore civil discourse despite polarizing divisions. Help us reestablish credibility in an era when truths are no longer accepted as truths and falsity given voice and credibility. Help our government to remember their duty to serve all regardless of status.

God of freedom, may the memory of the past inspire us to hold fast to the liberty we enjoy today, and more sensitive to the rights of others. May we never cease to work for the day when oppression will be no more, and all of humanity will live with liberty, justice and peace. Amen.
We sometimes set aside spiritual disciplines like prayer during crises because it seems such a small thing to do, but the smallest things turn out to be full of meaning and power. This prayer vigil did not immediately transform reality or eliminate fears. However, coming together reminds us that we have coconspirators in resistance. It helps break up the cycle of worry with contemplation and inspires action in response.