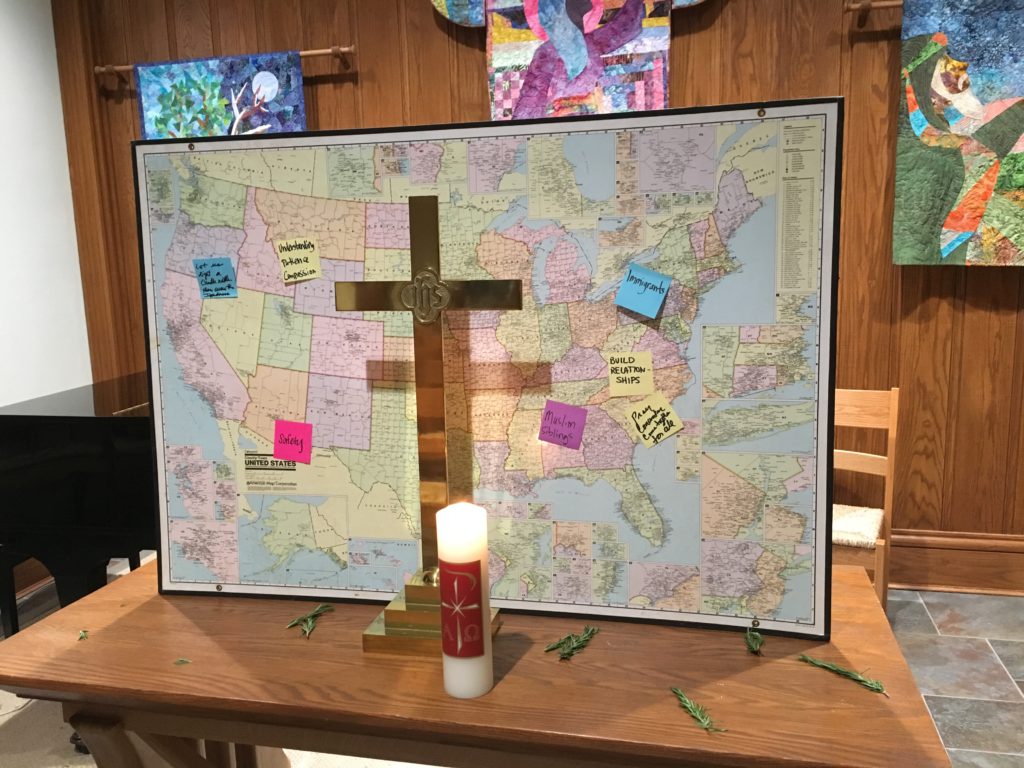 As many of you know, we've been gathering for a Wednesday night prayer service in Davis Chapel after supper. I know many of you are shaken by the results of Tuesday's election, and it was good to gather together.
We listened to a Carrie Newcomer song. I had the opportunity to see Carrie in concert this summer at Centenary United Methodist Church. She sang a song that was particularly moving to me, and especially apropos in light of Tuesday's election. In her liner notes about this song, she writes:
This song was written after a conversation with my friend Parker J. Palmer. I asked him, "What can we do when we are personally or politically heartbroken?" He responded, "We take sanctuary. We gather with those we love, in places like Brown Chapel. We remember, we share stories or we sit in silence until we can go on."
We practiced Lectio Divina with Jesus' Lesson from the Plain in Luke 6:
But I say to you who are willing to hear: Love your enemies. Do good to those who hate you.  Bless those who curse you. Pray for those who mistreat you.  If someone slaps you on the cheek, offer the other one as well. If someone takes your coat, don't withhold your shirt either. Give to everyone who asks and don't demand your things back from those who take them. Treat people in the same way that you want them to treat you.

Don't judge, and you won't be judged. Don't condemn, and you won't be condemned. Forgive, and you will be forgiven.  Give, and it will be given to you. A good portion—packed down, firmly shaken, and overflowing—will fall into your lap. The portion you give will determine the portion you receive in return.
And we prayed for our nation. We had a map of the country on the Table with sticky notes, markers, and sprigs of rosemary (a nod to the Carrie Newcomer song). Folks were invited to write a prayer and put it on the map. One member reminded us to "light a candle, rather than curse the darkness."